(Editor's Note: This article also appears in A-Frame Magazine v1.2)
>>> Brett Youtube Edit (11.3 mb) <<<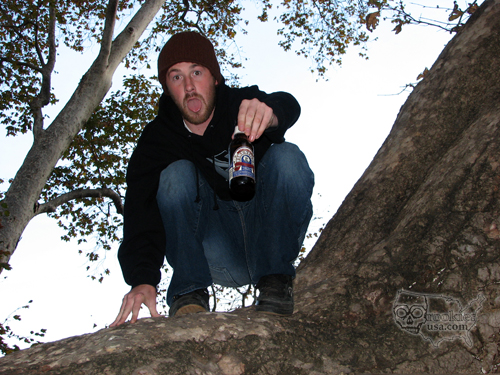 Raffi calls him Red Dog. Stoker calls him mini-Roach. My aunt calls him a young Bruce Springsteen. While there may be some ambiguity over his namesake, there are no doubts about Brett Roldan's riding ability. At 26 years of age, Roldan has been in the game for quite some time. With numerous professional dropknee contest victories, a past signature board model, and a travel log that includes Australia, Hawaii, Indonesia, Tahiti, and Mexico, you may start to wonder why you haven't heard more from the DK freak. Most likely this derives from Brett's upbringing on the Central Coast, a far cry from the industry spotlight of Southern California.
While remaining in this often-overlooked region may have cost him some coverage or notoriety abroad, his commitment to the Pismo area and its surroundings has earned him the respect of local old school enthusiasts and grommets alike. More than a decade ago Brett was playing that very same role of stoked grom, emulating his dropknee idols down at the Pismo Pier. Since then the tables have turned, and Roldan's full throttle tail throwing approach seems to be making quite an impression of its own. Despite this fact, old Red Dog remains content with Pismo and its mellow vibe, drinking tall cans, working the local fish joint, and killing it down at the pier on a daily basis.
*************************************************************************



What was it like dking Pismo back in the day as a grom with guys like Simon Mason, Heath Erikson, and Darren Delmore lighting it up in front of you?
Amping of course. I'd be out there all day on weekends and would get to see those guys just killing it.

How has Pismo changed since those days?
Let's see…the waves have gotten worse, there's a lot of dude bros out there who think they are the next Kelly Slater. There's a solid grom crew, both stand ups and boogies. A lot of them are progressing fast and starting to shred. There use to be this crew of stand ups we called JGer's. They rode for this guy Jerry Grantham, a shaper from Pismo, who looked straight from the stone age like Fred Flinstone. These guys were freaking gnarly, but controlled the donkey level to a minimum. They pretty much would beat anyone up, except Mr. Taloa. Ha ha ha. The only thing not to change are all the raised trucks and chowder in bread bowls.
You have been a fixture at Toobs since what, '75? When did you actually hop on board with Buzz and how is your relationship with them?
'75 huh? Too bad the boogie wasn't created until '79. I think it was when I was like 19, back in '98. Everyone up at Toobs are all time. Buzz, Susan, Pat, Mike, and Marcos are all wonderful individuals. Those guys are like family, I get along with them well.

What's Marcos over at Toobs like? What's he got you riding now?
Marcos is classic. He gets a nice afro going from time to time. Right now he's got me riding a boogie board, a little something sick. Every board I get is complete sickness, unless it's one of those toboggan boards.
You've been on a zillion trips. Tell us why you are such a travel fiend and what you get out of traveling.
It's nice to get away. Being a boogie boarder, i have to have a job to support myself. So it's always good to get away from where I work. I've gotten a lot out of traveling. You meet so many new friends, you get to see parts of the world people only get see on T.V. It's hands on education. Plus the waves you get to experience are outrageous.

If you had a dream trip, where would it be and who would be involved?
You know any trip is a dream trip, unless it's to the valley or somewhere far from the ocean. It would have to consist of good waves, good friends, solid buzz on and no FR's or FS's.

Where did you get the nickname Red Dog?
Ahhh yes, good ol' Red Dog. It was one year when Ruben and I were in Hawaii staying with Will George. Raffi happened to be over the same time and was crashing at Will's as well. My first day over I got completely fried by the sun. My whole front and back were red. With a tight budget one must learn to scrap and buy what's cheapest and well, Red Dog 40 ouncers were the cheapest beer at the time so I got a couple. Sure enough Raffi and Will were capping on me all night and decided that I looked like the Red Dog on the front label. I think Will and Raffi split a Seagrams fuzzy navel 4 pack that night.

I've always been interested in your family dynamics. You were raised Mormon but still your favorite verb is 'fisting'. What happened along the way?
Uhhh… you know. Everyone goes through life changing experiences. Uhhhhahahaha… fisting, that's funny.
While people have come and gone from the Central Coast for different reasons, you have remained. What has made you stay in Pismo all this time and do you see yourself ever leaving?
I don't know, it's home. Going on trips make it a little easier to cope with the everyday life in Pismo. When there is waves, there are some sick spots. You just have to be down for a little mission and be on it. I don't know, couldn't tell you if I would ever leave or not.
I don't think people understand Pismo Fish and Chips and its connection to bodyboarding. Give us a rundown of your current employer and what goes down between bowls of chowder.
I couldn't tell you how many boogies have worked there, like Stoker and pretty much the whole Rookies crew. Right now there's a few groms bussing tables. It's a pretty intense work environment. Between some of the employee's and the customers it attracts, there's really never a dull moment.
Before and during PFC you had a laundry list of odd jobs. What were a few of these jobs and how hard is it to mix surfing, work, and a social life into your schedule?
Let's see. I worked at Vons as the Liquor Manager by morning. Helped my buddy, Get Your Grill On Briggs, at Baja Fresh by day. Then I waited tables at Pismo Fish & Chips by night. Sometimes I got an hour between Baja and PF&C and could squeeze in a 40 minute session. It doesn't matter if it's good or not, just go swim or paddle around. Socially there's usually nothing going on anyway. I have a lot of friends in the area so we usually run some Mentone ball or go surf. Now my days are little more simple. I deliver luggage every Tuesday morning from 8-3 for my buddy Tony, and I still wait tables at PF&C.

What's your agenda for the next year? Any traveling or contests planned?
I'll probably try to hit up Puerto for that La Punta contest in September or
October, if they have it. Possible Hawaii in February and next late spring in
Australia. I'll try to do some more of the BIA's. We'll see where that takes me and go from there.
Few people know about your skills on the belly. Fill us in on the art of the jammer that you have been perfecting.
I've recently been turned onto the Jam by Dk shredder, DHubb. It's impossible to perfect, there is so many variations.
People always debate about the state of dropknee and where it is heading. What's your take on this issue?
There's always going to be someone better, no matter the sport. I don't know where Dk is headed. Hopefully it progresses, whatever. I'm sure somewhere out there is the next Robo Roach or something.
Are there any local or worldwide dropkneers that we should look out for in the future?
There's a few groms around these parts, still learning the ropes, but catching on quick.
Do you have any last words or shout outs?
Thanks to all my friends everywhere for good times, the Toobs Crew, my family, Esteem Crew, A-frame, 805bbr.com, and the Rookies Crew. Stan definitely gets a shout out.