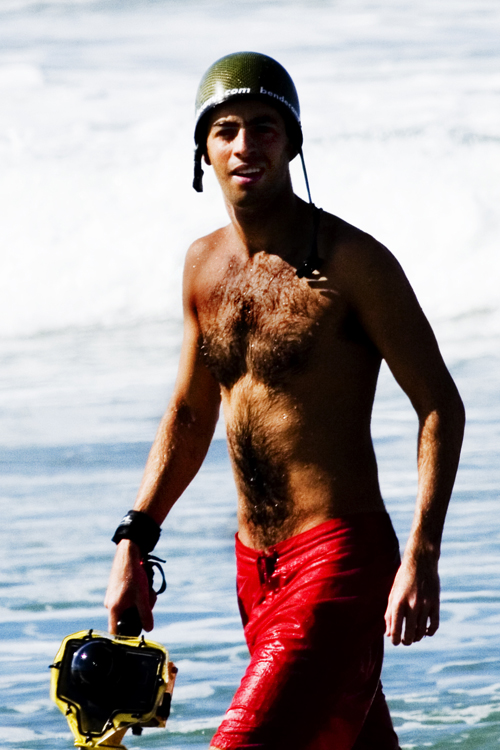 How long have you been shooting for and how did you get interested in photography to begin with?
I've been taking photos since I was 5 years old, but shooting surf seriously for about 3 years. My Dad had a ring-flash setup that he busted out during the middle of surgery to take photos of organs, bones, ligaments, etc. After seeing a few surgeries, and the stars swirling above my head, I knew I wasn't going to become Dr. DeCamp Jr.
What does your current camera setup consist of?
I keep an exact copy of my water setup, in case the housing floods and I'm on a trip. I use all Canon bodies and mostly Canon lenses. It's not really the equipment that's important because I've taken some shocking photos with a $20 Holga and a roll of medium format.
You were raised in Rhode Island but now you live in San Diego. What's to like about each coast?
Back home I live on a salt pond, it's really quiet and I can kayak to the beach. Only about 5 cars drive down my street each day. I think people are less jaded on the East Coast because it doesn't get that good often and when it does the whole world stops, surfers lose their jobs, and girlfriends are discarded. I love San Diego for the powerful surf, the ridiculous amount of beautiful girls, and how close it is to Hawaii, Puerto, etc. To think about how my life would be if I didn't move out here to go to school is pretty trippy. I'd still be slumming it in a 6/5/4 riding alone in blizzards, but not involved in any of this surf photography.
You recently visited Mainland Mexico over the summer. How did that trip go over and where do you plan on traveling to next?
It was my first time down there and I went with Chad "Stickman" Stickney, he gave me the grand tour which I greatly appreciate. I made a lot of friends with the locals, a bikini model we call Pocahontas fell in love with me, and I learned the true meaning of riptides. Heck I have an article we can just put up on your site, the mishaps and disasters could take up this entire interview!
I hear that you're currently finishing up a bachelor's in philosophy at UCSD. What made you go with philosophy?
The Economics classes are so hard to get into, I once slept on a boogie in front of the department building to be first in line for free slots in a class. But Philosophy was always something that interested me because it's given me a new world view, and helped me out a lot with relaxing in heavy situations. I'm actually working on two new innovations with surf photography that I probably wouldn't have conceived of otherwise. Obviously there's no job being dangled from a string at the conclusion of this schooling, but it's helped me grow as a person, something I didn't think the Econ major would do.
You were rocking an insanely grotesque beard for a while. How come she get taken away?
For some reason I can't shave against the grain, so I decided to sport the facial fuzz. The amount of maintenance to keep that thing in a somewhat groomed condition led to all kinds of beard/mustache trimmer purchases. People thought I was in my late 20's. I got rid of it because I was tired of finding cereal, sand, and seaweed lodged in it. Also only the creepy chicks liked it.
How was the experience of building housings with Sean Labrie at SPL in San Diego?
Working at SPL was really rewarding because I have a a new appreciation for how laborious it is to produce those devices. It was wild seeing some of my photographic idols come through the doors, working on their equipment, and breathing in lots of glue fumes. If you bought a Canon 30d or Mark II housing in the last couple months, there's a good chance I had some part in its production.
Lastly, who are your inspirations in the bodyboarding world and in life in general?
In bodyboarding I definitely look up to my good friends and longtime LJ locals Ron McAdams, Craig Timmons, and Terry Upton. Ron has consistently pushed my comfort zone with riding bigger waves and paddling out to heavy waves in the dark. Craig is like my 2nd father, he's so supportive of all my endeavors. I have Thanksgiving with him each year and play croquet with his wife. Terry is pretty bizarre. He's one of the biggest chargers I've met. The amount of fights he gets into (and doesn't lose) all in the name of holding down a single patch of reef along the coast is pretty deadly. These three guys could care less if you cross your legs on a wave or if you're wearing some brand. It reminds me of when I was innocent and pure riding straight to the beach, and just enjoying riding a wave without all of the politics. They are the original SD boogies and to show that kind of longevity and dedication to a break for 30 or more years are amazing qualities you can apply to anything in life.
Outside of bodyboarding, I'm inspired by people who have turned their backs on society and lived their lives as hermits, something that a lot of people only dream about and then wake up in their cubicle. One of my favorite novels is "An Island to Oneself" by Tom Neale. He basically moved to an island on Fiji and didn't talk to anyone for years at a time and kept a journal. He points out how we become caught up in social requirements like fashion, materialism, and peer acceptance. Neale claims in reality we should be focusing more on our own existence through active meditation and reflection. That might be heavy for some of you so basically he supports minimalist living on an island, drinking coconuts, and surfing some long barreling point break you discovered.
Thanks for looking at my photos and showcasing my work with the Rookies.
*************************************************************************

Derek Dunfee, San Diego. I had been trying for this angle for a long time to show the crease in the reef on the take off and the dry reef on the inside.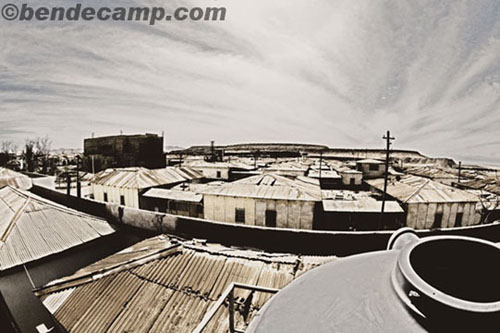 This is one of the best preserved ghost towns in the world in Northern Chile, it's like walking onto the set of a western movie. It hasn't rained in over 25 years, and the water tower I'm standing on proved that…empty.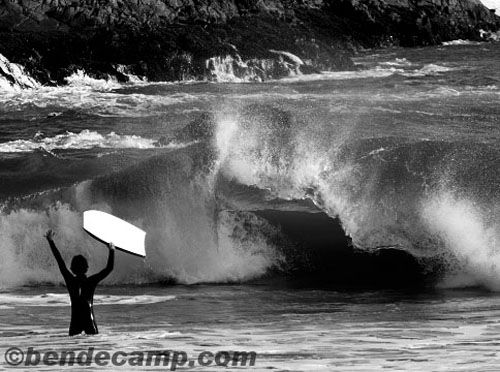 Chad Stickney, West Coast. I've been on a couple trips with this nut, before we rounded the bend he had to go find some goodies he hid in a cactus months earlier. We came around the corner and surfed this by ourselves.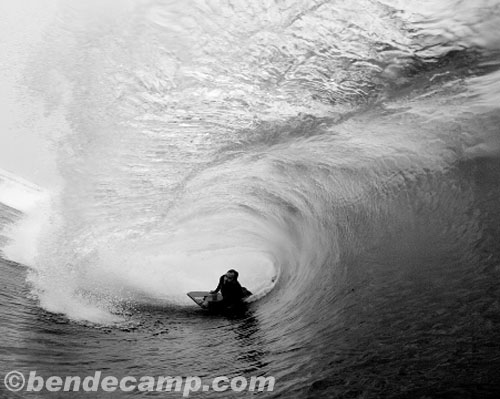 Lance McCann, San Diego. One of the original boogies in the area. This is a spot rarely surfed or photographed because of heavy localism. I was getting out of the water down the coast in the pouring rain and to my surprise he yelled for me to swim over.

This is Pipeline on New Year's Eve 2006. One of the cleanest days I've seen. I was hanging on the inside trying to shoot the empties that snuck by the pack, and paid the price after this one when a 2nd reef set rolled through.

While the circus was unfolding in Arica, I posted up a few hours away. The tall building on the left was my apartment for a couple months.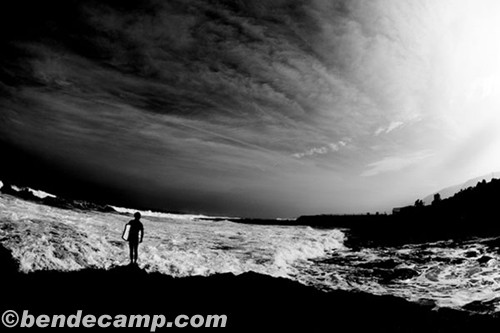 A lot of the spots have pretty sketchy keyholes to paddle through the reef. This one was no exception. After this photo I jumped in and stepped on an urchin.

Rotting fish intestines are good bait.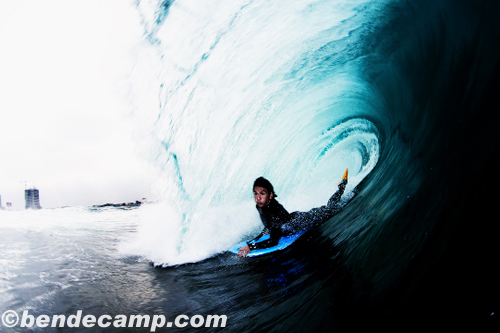 Alex Wittmann. The relentless clouds. The time I spent in Chile I was forced to learn flash photography. This local was religious about showing up early and would pull into anything for me, he and his family showed huge hospitality towards me for which I'm eternally grateful.

Simon Bell. Puerto gold.