Softcore Review:
You can bend 'em
You can bounce 'em
You can even roll 'em
Softcore kicked it off fittingly with a cheesy '80's bubble-gum-flavored Morey ad and successfully laced retro nostalgia with a bit of new wave bodyboarding chic from there on out. Despite a suspect Morey/BZ feel throughout, da boys at The Clap Theory were able to seamlessly bridge the gap between the Stewart's and Roach's of yesteryear with today's new onslaught of international foam soldiers while maintaining some Cali love.
Segments: We like seeing short and to the point videos and that's exactly what these guys did. There were 12 segments clocking in at about 40 minutes: Intro, Hawaii, Hubb, Chile, Cali, Tyler Danek, Oz, DK, Roach, Stewart, Everyone, and Credits. Our advice: skip the lengthy credits upon completion and go straight to the Hardy segment (mastery) in the extras. This segment along with the Hubb (typical boosts and bowls), Chile (BPlayer ownage), and Oz (xxl Shipsterns and Rawlins murdering) segments were pure quality. And lets not forget the Roach and Stewart throwbacks that had us thinking along the lines of our favorite 90's vids.
Music: The music had some groovy trendy indie tracks but left us thirsty for some more throwback jams to match the theme of the movie. No special mentions but no major disappointments either.
Editing: The Allard/Idano combo have definitely developed their skill set here with some quality titles, animations, and pre-segment comedy routines. Very clean and flashy but a little too flashy at times. If you're going the techy route, use in moderation.
Oceanside Premiere Pics: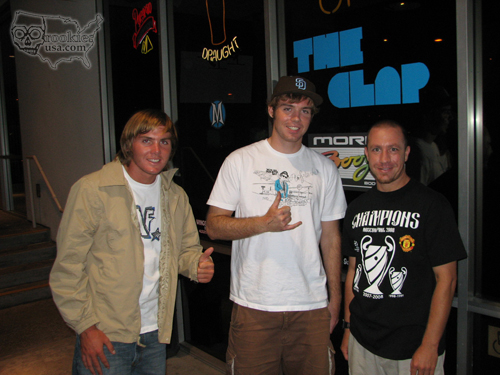 Cryptopher had no trouble finding the underage boys at the premiere.

Pretty solid OSide turnout for the event hahoi.

Just LIVIN.

Jake Ryan Hardy and Jeff Hubbard.

Philly with the new wifey.

Peltron loves the middle digit.

Penguin and Count Cokula getting weird.

The Pismo groms brought 40 ozs of High Life and their game faces.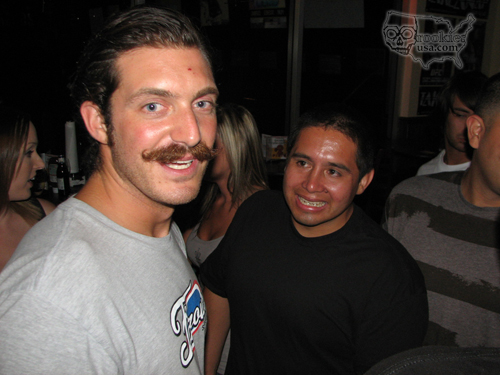 Dirty Mustache and Dirty Sanchez.

Spicy hot wing competition.

The winner.