With a work conference along the Central Coast slated for January 6th, I convinced my boss that he should give me an extended 13 day holiday away from San Diego to "work" from home until the nearby conference began. He surprisingly agreed. While I didn't gather quite as much documentation as I would have liked, below is a little sprinkle of what life is like in the heart of the 805 during the height of winter.
12/26/08 – Framegrabs from a beachbreak just north of Pismo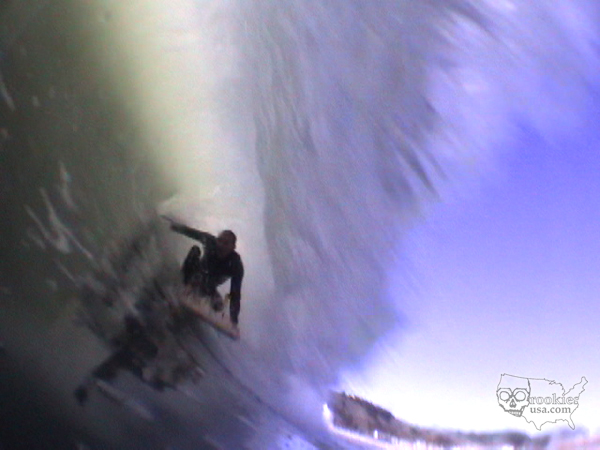 Louie came out of the Grover City woodwork for this session and showed off his backside steez.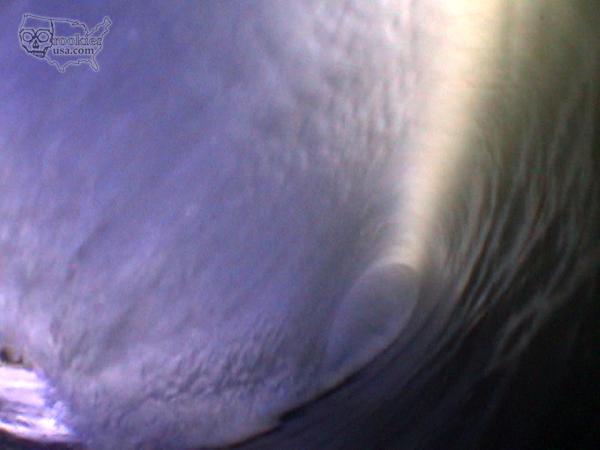 A perfect left and a perfect right both squandered by a young Baby Seal Pup.

Baby Seal Pup redeeming himself shortly after (left). Willie Richerson withstood the frigid water temps long enough to sample a few backlit bowls as well (right).

The swell was initially thought to be a little too small, a little too short period, and a little too north for this particular spot. Mr. Robles begged to differ.
12/31/08 – New Years Eve, Shell Beach


Don't do drugs kids. Willie, Roldy, Briggidy (left). The morning after (right).
1/2/09 – Framegrabs from a beachbreak just south of Pismo


Roldan showed he still had a little Shaolin ninja in him on his return to the Central Coast.

It wasn't epic but the conditions were right and Ryan Moore took full advantage.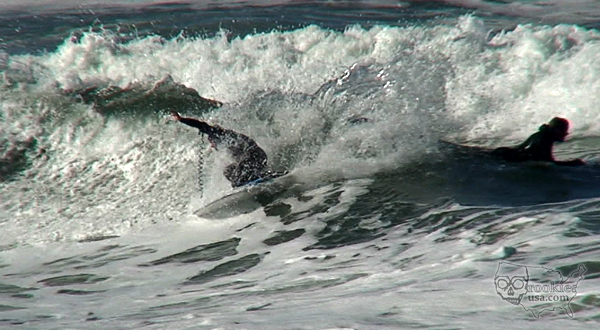 "William, Bill for short." Willie takes Brett's incessant badgering to heart and gives a little extra push on this turn.

Red Dog drew out of this stylish snap directly into an inside bowl in what turned out to be the wave of the day.

Black Joe Buckets. Ryan Moore's got some serious power on the knee.

Willie impressed me with his belly style antics on this trip. Riding the foamball.

Ryan Moore taking out Los Osos sewage controversy aggression on this little insider.

Snap. Carve. Tail. Roldie can juggle his entire repertoire on a single wave. Click for full size.
1/3/09 – Asthmatic Giant show, San Luis Obispo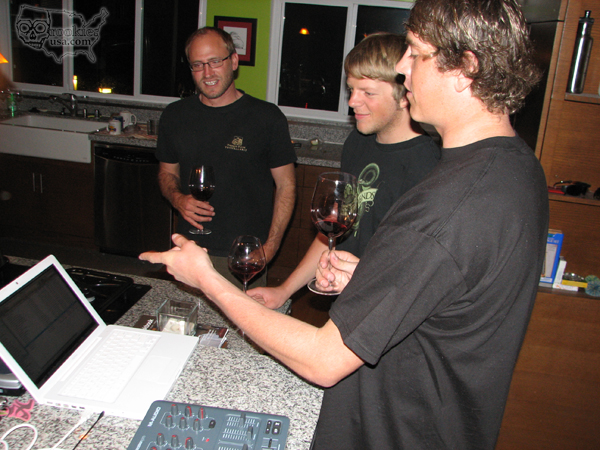 Wine and music. Great minds think alike along the Central Coast.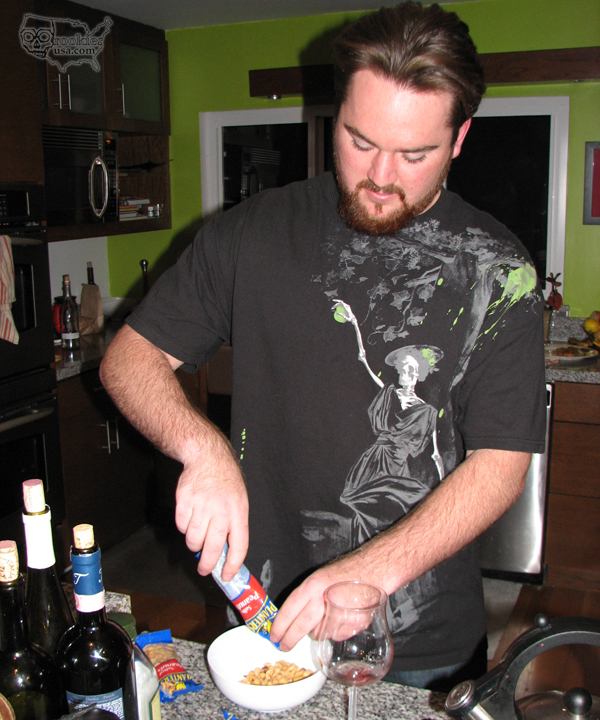 Manager Schloonis showed up with the 2-for-1 double pack of Planters Peanuts and a quarter pound of Spicy Peppered Oberto Beef Jerky to accentuate the sugary residuals of Hellmore's Home Blend. Buy this shirt now.

While the naysaying connoisseurs in attendance scoffed at the idea of blended guac, Delmore whipped up a masterpiece before our very eyes and won over our hearts and our stomachs. (Recipe withheld at Darren's request.)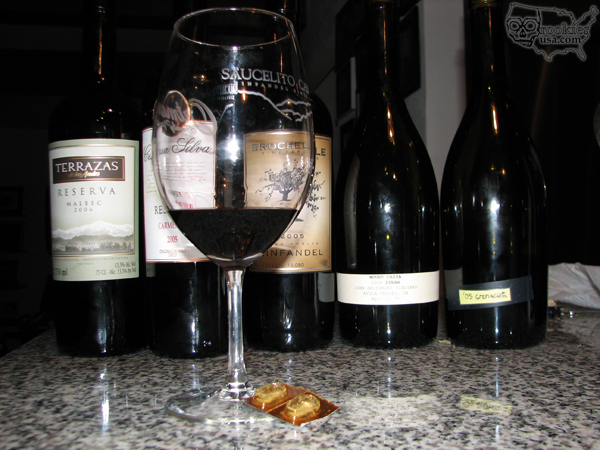 The lineup for the evening. Estery orgasm.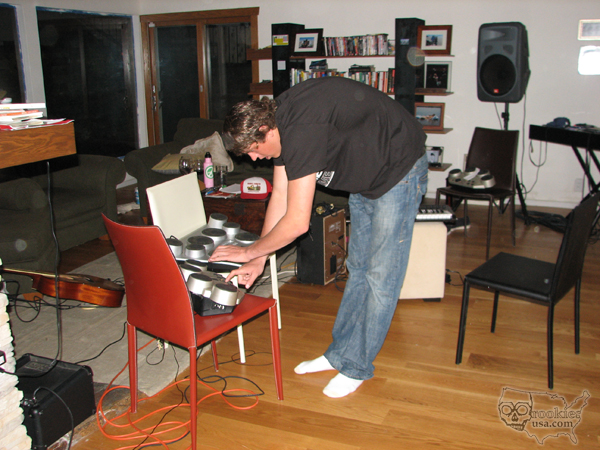 The Giant must stand! Years of waterpolo have reduced the Giant to standing-only performances.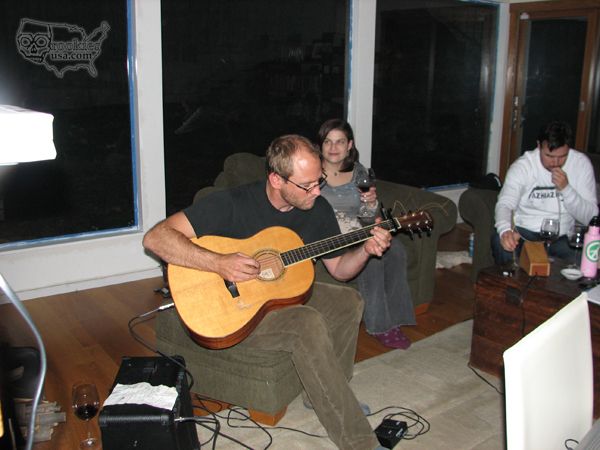 The eerie film that seemed to loop on the inlaid tv set in the background coupled with Hellmore's deep submergence into otherworldly distorter melodies was oddly surreal. Some audience members (back right) had to take a break from this reality with a little help from the vaporizer.

We thought the show had ended when in fact it had really just begun. Delmore's switch to the keyboard led to an intoxicating finale that brought out a greater depth of AG than I had ever seen before.