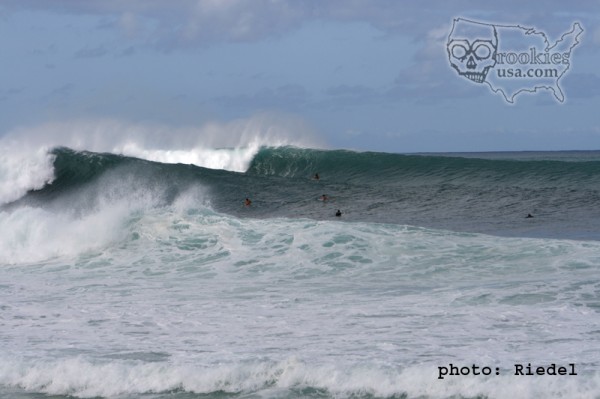 Howz it!!!! A lot of action is going down on the North Shore! A nice NW just finished its pulse the other day sending solid ten footers to standout spots like Pipe and Sunset. I only surfed Pipe once during the swell due to a random surfing contest on the first day and a head aching crowd on the second day of solid waves. I saw some serious busting going down by the usual rippers. Standouts included Player, Hubb, Skipp, and Pierre "kids Nutzah"! I saw a couple of Aussie up and comers hit some disturbing Backdoor ramps as well. Sometimes for me when Pipe is that annoying size, I get more enjoyment out of watching rather than surfing. The only reason I say it's annoying is because of the crowd that forms when it's eight feet! If you're only here for a month and flew half way around the world I'd definitely say that it's worth it. As much as I want to go out there and get the one, I prefer a scraper session at "bick yards" any day!
The Pipe contest waiting period opens in six days! The word on the street is that they're going to hold the trials elsewhere because of the high volume of contestants. This would be unfortunate and could possibly make me want to pull out. It's not that I think I'm too good to do the trials, it's the fact that it's almost 250 buckas this year! Pay all that cash to surf six rounds in some shitty ass waves just to get to Pipe Fuck Dat! The last few years they said the trials might be somewhere else and they ended up at Pipe so let's hope that's the case! Although the holding period is still far away, the long term forecast isn't looking too impressive but things can change so fast over here!
Roldy made his way back to Cali a few days ago. He actually made some cash for filming Andre and the rest of the 662 crew for the three weeks he was in Hawaii. It was sick having someone film during every session! Although Roldy has departed, Statom's arrival is less than a week away! Get ready for some heavy North Shore coverage of the contest and anything else that goes down! I'm working on a couple interviews as well that will be too legit to quit!! Last but not least some pics to keep the froth alive. Fuck almost forgot I went and saw the Fire premiere in town a few weeks ago! Talk about too legit to quit!!!!!! That's all I can say shit is sooooo sick and sooooo stoney! I'll throw some pics up of that night!