Saturday February 28th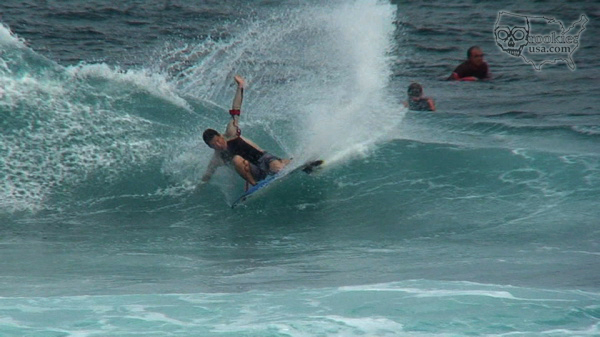 Well our 14 days on the rock has come to a close with quite a whimper. The lack of updates is directly proportional to the lack of surf here on the North Shore since our last transmission. Not to say there hasn't been time for the daily double of Pupukea sandbar and inside Sunset sessions. But the incessant Northeast winds have made our options pretty limited in finding quality waves. The routine of late has been pretty simple: going rounds in the kitchen, scrapping windswell peaks, and hunting for trogs. James has picked up some extra shifts so I've managed a Haleiwa night, a couple nights at Turtle Bay and some neighboring Sunset hikes with his roommates to kill time.
I've posted some framegrabs from the contest in an etcetera here. If you haven't checked the frames of Murdock filmed by Brett "Spacey" Roldan on the DreBoy site, I've pieced them and a few others into another etcetera here. Until our return to the mecca next year, keep checking back as we'll have more photos and an edit from the contest in the near future as well as our batch of usual news updates and features.
ps Willie has been getting fun waves in Kauai and will be returning home shortly as well.
Wednesday February 25th

Where to start. It's been an eventful past couple of days with the finale of another memorable Pipeline Pro finish. Ryan Hardy nailed his first victory at the Banzai without even pulling his Backdoor card in the final. His '09 campaign looks to be a promising one. PLC put on a very impressive 2nd place finish with his high flying repertoire but in the end it was the patience of Hardy that prevailed as he found a couple of the only larger lefts that made their way through as the swell turned more north. The Hardy chants were already strong before the final buzzer sounded and most assuredly lasted well into the night with a fired up Australian contingent getting weird on the beach. This one was well deserved for Hardballs and fittingly it comes on the heels of a major sponsor drop. Somebody's bummed at corporate headquarters.
Monday the swell was up and the comp resumed with Day 2. We opted for a last session out at Yards as Willie would be departing that afternoon. Rusty Trombone and his crew joined us for a couple hectic sidewinders but it was mostly a fruitless effort with a strong current and washing sets. Not the most memorable '09 campaign for Willie but a solid effort nonetheless. After his departure we regrouped down at Pipe for the rest of the afternoon. Pipe was on fire and I filmed for the afternoon as the action heated up. Toby Player, Alistair Taylor, Dave Crowley and Diego Cabrera were all standouts during the afternoon hours. David Phillips definitely made the biggest statement with his Day 2 performance. After Round 7 finished up we avoided the post-comp convergence on Pipe and settled for another round at Yards. This time the right call was made and we scored emptiness until dusk. James' parents departed that night leaving us with a nice collection of leftover food to take care of. This is essential for our daily food consumption.
Tuesday was more of the same. Another good Yards session followed by an afternoon lurking on the beach. We missed Round 8 but it was said that Dave Winchester, Nitch Rawlins, Ryan Hardy and David Phillips dominated. In the quarters things got controversial. Again we were not in attendance but one of the most stacked heats in IBA history went down with Nitch, Player, Stewart and Tamega going at it. In the end it was Rawlins and Tamega narrowly advancing over a fired up BP on some questionable scoring. We arrived for the semis with Winchester putting on an impressive performance despite the increasingly inconsistent surf. PLC, Hardy and Tamega would round out the final heat of the day. From there it was pretty much a clash of competitive strategies with Hardy's tube riding prevailing over PLC's aerial attack. Tamega's scrapping and Winny's jammers were pretty much nonfactors.
We will have much more media coverage to come in the next couple days including an etcetera from Anna Riedel showcasing some of her photos from the final day. The waves are back up for the next couple days so we'll keep you up to date on all the latest.
Sunday February 22nd
Friday afternoon we had our first encounter with Willie and made our way over to Off the Wall. Winds were pretty garbage but we made the most of the scattered windswell peaks. James' parents cruised over to his Sunset pad with Willie and his chick later on and Branch Mill was reunited for a solid meal. Oddly enough, the ever so slightest scent of sulfur was observed at the dinner table. We followed that up with a night cap run to Town where we ventured from Honolulu hot spot bars to Femme Nu and back to Chinatown to finish things off. Although it sounds big, we went home feeling somewhat emptyhanded with Willie not even allowing the Gremlin out of the closet and no lap dances embarked at the 'Nu.
Saturday we did the tourist bit. I met up with Willie and his chick while James grabbed a Sunset session out front. We cruised the local farmer's market and coffee house before making the trek to Waimea Falls. In fine Wonka fashion, we blazed some trails, named off a few exotic birds, and worked the Macro zoom on his 1985 1.6 megapixel camera for some stoney flower shots along the trail. I made it back to the beach in time for a chopped out Pipe session while James went to work and Willie visited friends on the West side. Another PLC siting was made, that guy is straight up devoted. A bonfire out front of Sunset put us to sleep at a decent hour later that night.
Sunday we met up with Willie again at OTW mid-morning. These winds are really getting annoying. I filmed for a bit but didn't capture much magic. Willie, his chick and I decided to go for another excursion while James got a couple standup waves at Sunset. This time we ventured as far west along the point as we could go to seek out some sacred albatross'. Sadly, the trail reminded us more of the AWD dunes of Pismo than any kind of natural bird sanctuary. A mud bog diverted our attention away from the drab path and before we knew it we were getting down and slinging mud at one another. In the words of Josh Ralph we were "Getting Weird." This phrase has completely dominated the trip. After a troublesome cleanup on the lava rocks we were back on the road and on our way to an evening OTW/Log Cabins session. The swell was up and the winds were down and we got a few nuggets tonight in front of an interesting cast of chronics. An optimistic forecast on the horizon for tomorrow has us done in early tonight.
Friday February 20th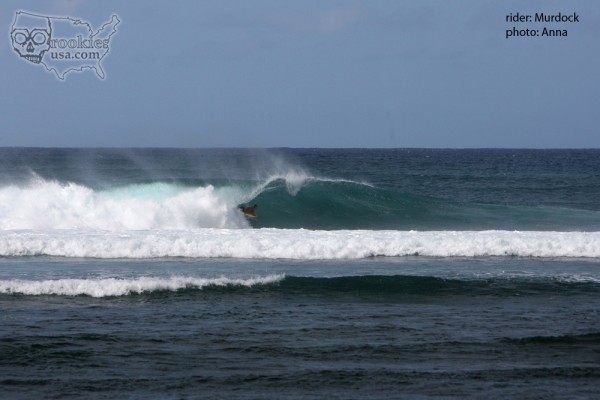 Yesterday we woke up to some shit weather so we watched a movie early and went through another round of James' intense yoga/knee strengthening routine. He tore his ACL last year and has been doing some crazy rehab ever since. The NE winds and smaller swell didn't keep us from paddling out at Sunset for a couple hours. The inside lefts and Boneyards rights had some juice to offer. We followed that up with another hectic guacamole round and Foodland run. Willie arrived and got a few at Off the Wall.
Today the weather is glum again and we're waiting for the morning sickness to die off so we can meet up with Willie and find something to keep us sane. The vocabulary has delved into its usual vulgar depths with the recent lack of surf. Here are a few links to hold you over:
Riptide Hawaiian Expose
Message Board Collection of Event Photos
Jamie O Waldron Vid
IBA Twitter
Wednesday February 18th

Yesterday the first day of Pipeline Pro competition went down with some fun 4-6 foot wedgy but inconsistent peaks. Unfortunately for Murdock and I we were both subject to a combination of poor wave selection and a hungry field of talented internationals descending on the Rock. Murder made it through his first heat with a couple toobs and maneuvers but we both got axed in the 2nd round. The anti-christ/salt block preliminary strategizing against our competition was not unveiled and could have led to crucial victories. Standouts of Day 1 included Ruben Quinones, Damian King, Timmy Hamilton, and Oshi Grady, with Beans and Rusty Friesen displaying some California love in their heats as well. Check this video from the IBA site for Day 1 highlights.
After losing out we headed to inside Sunset and caught a couple sketchy peaks before rolling to James' girlfriend's birthday dinner up on the hillside of Pupukea for some killer grinds. We drowned our sorrows in beers and perved on some young bystanders and called it a night.
Today the contest was off so we made a mandatory Haleiwa/Foodland mission for cash and food and chilled down at Sunset which is just footsteps from James' balcony. Swimming and bronzing and bronzing and swimming. From there we met up with James' parents who are staying at Ke'iki and had pretty much a guacamole eating contest from Drew's daily tree trimming assault. Willie shows up tomorrow afternoon so anticipation is high for some media production although the short range forecast looks grim. The contest probably won't resume until next week. Below are a couple more tidbits from the pre-contest action. We will have full documentation for the remainder of the event so keep checking back.

Monday February 16th
Well got in around 9 last night and was swiftly picked up by Murdock and his stonie tree cutting roommate Drew. A quick stop at Terry McKenna's so I could drop off the entry fee and James does a frantic rundown of "the list" and…we're not on it! AKA no Erma trials today so we're going straight to surfing Pipe. Stoked.
Because of this we sleep in a bit after staying up late getting situated and receiving an inspirational call from Miller. The wind is a little weird early today and the swell is still windswell wrap so we man the deck for a bit and throw out a mandatory lurk before a quick trip to Haleiwa. Binoculars, babe sightings, and wave sightings. God it feels good to be back.
Murdock's new surfing partners Andre Botha and Anthony "Look like a hippy but don't smell like one" Savoji cruise by and soon we're off checking spots. We end up at Rocky's. Couple fun ones early but the swell is rising fast and we're dipping more waves than we catch. Get out and check Pipe. Solid crew of boogs on it. Big and wedgie but a bit weird and crowded. Throw down a little video (see grabs below) until it starts raining a bit. Murdock and I exit stage right to tackle some Backyards and its the right call. Lotta paddling but some empty offshore bombs offer up a couple choice toobs. Back at James' house afterwards and it's a full on pasta feed and a chill night as it looks like the comp will run tomorrow. Check the heat draw here and check for the live feed on the IBA site manana.

Sunday February 15th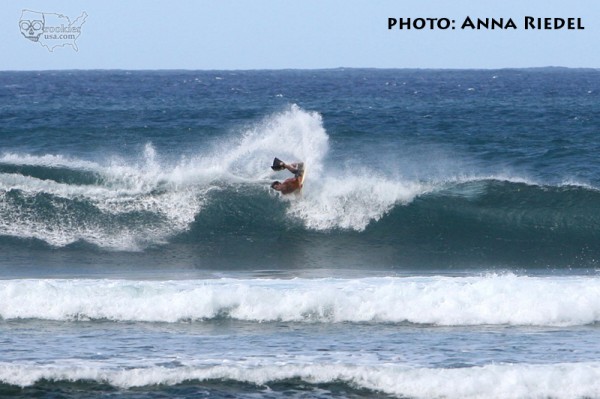 The pre-trials trials have been set for an unfortunate few on the South Shore at Erma's. Also, a list of the dk contestants has been posted on the IBA site here. Look for the action to heat up Tuesday as a 6-foot swell approaches da banzai and the opening day of the contest starts off with a bang.