When his beloved hound Racer passed away some years ago and he himself very nearly touched upon death along that treacherous stretch of Highway 1, Michael Minnesota Emo had a rare out-of-body experience. It involved a convoluted vision of sorts. Filled with pastrami wedged in between his shiny, multicolored braces. Filled with Cardiacs, Asteroids and other surf spots of the outer cosmos. And filled with an ambitious archiving endeavor. From that day on he made a vow to carry out this vision. Stroking his vacuum-zipped 600mm lens by day and scanning in crusty old relics on his Epson by night, his vision slowly came to life. A plan to document every detail of the sport was unfolding behind the scenes. Video by video and mag by mag Emo worked diligently to accumulate material from other good samaritan spongers who were equally entranced by his vision. And finally, just a little over a month ago and almost 4 years to the day of his near fatal accident, he birthed his visionary baby, dubbed BodyboardersJournal.com. This site is testimony to Emo's closet loyalty to bodyboarding and, more importantly, to Racer. If anything is going to legitimize our sport, it's a comprehensive site that celebrates our history like this one. For now check the interactive gallery, the magazine and video archives, and the exhaustive set of links with much more in store in the coming future. Good on ya Emo. Contribute today.
Speaking of comprehensive, you have to check out transitsurf.com. I'm not quite sure how we missed this little gem in earlier posts. Along with Spongercity this blog has quickly become the source for the latest and greatest that is boogie, especially around Australia. Interviews, links galore, and commentary abound in this sweet little number with updates usually filtering in daily.
Back in the homeland Roldan hit the dirty 30 mark and moved back to the Central Coast. He's slowly recovering from his foot injury from January while delivering pies at Giussepe's and collecting retirement from PFC. Cale has been getting all kiwi chasing swells around north island New Zealand for the past month. He returned home yesterday and should have some photos for us shortly. Hellmore and Chaney have been dominating a plethora of springtime Asthmatic performances, opting to focus more on their music as it gives Chanus a chance to recover from hamburger meat toe and Darren an excuse to upgrade his fedora collection. Adam T is hanging steady on the Central Coast and is ready for some rotisserie bronzing as an Avila lifeguard this summer. Lastly, Murdock has been scoring some late season delights and also just booked a 2 month trip with Mr. Keene and his new video camera to Mainland Mex. Stay tuned for the carnage.
California also just witnessed its 1st south swell of the season 2 weeks ago to kick things off properly. Eddy conditions prevailed but there were a few nuggets to be had up and down the coast. C-Los posted a few wedge shots here, here, here, here and here from Day 2 of the swell. We were there to document a bit of the action as well for Day 1. Check the thumbnails below.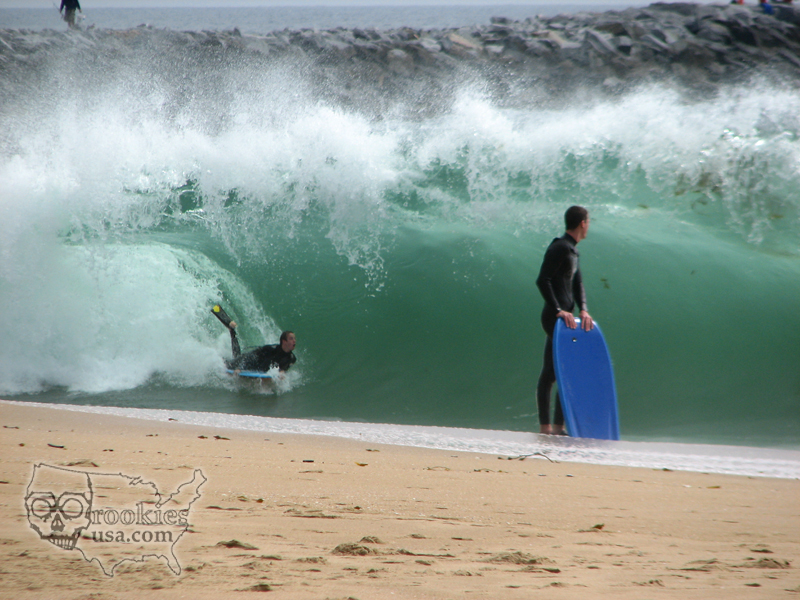 Also check back soon for a full winter review writeup with some above average pics of a rather below average season. Some housekeeping links to tide you over until then:
Videos:
– BOOM! meets Hawaii: Hardy, Team Manta, Team VS
– Hoovah uploaded another clip from his recent Mexico trip here
– Not so extras, extras: Hubb segment from Llowen Liberato
– Michael Novy you so sexy
– Nathan Henshaw Film Reel
– Folzz gives us a taste of the East Coast
– Zen filmz North Shore Edit
Miscellaneous:
– Boothy's back
– Rocket owns and saves lives
– Lackey vid coming soon
– Spongewars Claws and Teeth interview
– Spongercity Interviews: Galagher, Waldron Bros
– Old Wedge article
– Dubb with Morey
– Check Garret Allard's blog: Merge
– Check Ben DeCamp's blog: Shark
– More blogs: Burkshit, Rawlins & Lackey, Hubb, Novy