Hey Rookiesusa.com,
So I just got back about a week ago from an amazing 18 day trip to Australia and I already can't wait to go back. About 3 months ago my friend David Schaub and I decided to go to Australia. We made the 14 hour journey over on the 22nd of May with no directions and no idea of where to find spots or what kind of swell to look for. We landed on the 24th and picked up our horrid, purple-flowered, thief magnet of a van after being told by the company owner that there was a 70% chance of break-in or collision. We took our chances anyway and headed straight away southbound from Sydney in search of waves. After two days of searching and driving we found boogie heaven. Nobody out and 4-6 foot. We surfed the spot for three days straight after randomly meeting up with fellow mainlanders Matt Meyer, Nick Ostrovsky, and Randy Holzmann. We also met some local groms named Riley Conlon, age 20, and Ryan Sewell, age 15. They were just two of the many rippers around the area.
After three days the swell started dying and the rain set in so we headed back north. We checked around three other cities but didn't find much of anything, the swell just wasn't big enough. For the next few days we surfed a mellow beach break, went wine tasting, attended a Riptide video premiere, bargain hunted and found shelter from the rain. We finally had enough of the town life and headed back south to our original stomping grounds. For the next two days we surfed perfect waves, 4-7 foot and light crowds. If California ever looked like a typical day here there would be 500 guys on it. We spent all day surfing about a mile away from the nearest car, building fires, crapping in the woods and staving off the incessant rain. David, Matt, Nick and Randy all scored a super session in the late afternoon with nobody out. Probably saw more airs that one day than I have all of my life back in California. The next few days just poured down rain all day, so we headed back to the nearest town. We all split up and David and I were really blessed when a random family took us in for two days while it pissed down rain. They took us out to dinner for pizza, made us beds in a fire heated room and cooked us meals. They also took us out to pet wild kangaroos.
Eventually the skies finally parted and somehow we all met back up again and headed back to the same spot as before. We got back to find it smaller than it had been with Dave Winchester and Spencer Skipper riding it. All I can really say is Dave Winchester is insane in person; he was boosting the biggest and most perfect airs on every wave. It was amazing, simply amazing. We ended up staying there until our last two days of the trip before heading back to Sydney. Overall we had an epic adventure, although we didn't surf many different waves and continuously got rained out. In fact our only two days of nothing but sun were in Sydney, but in the end it was completely worth all the hassle. I highly recommend that all bodyboarders make the trek over at least once in their life as it is nothing but a boogie paradise. So now I am back in California, back to my 60 hour week and already planning my next trip. Until next time be sure to check out Allen-Photos.com for all the goods.
Cheers,

David 30 minutes into his first session.

Ryan Sewel age 15.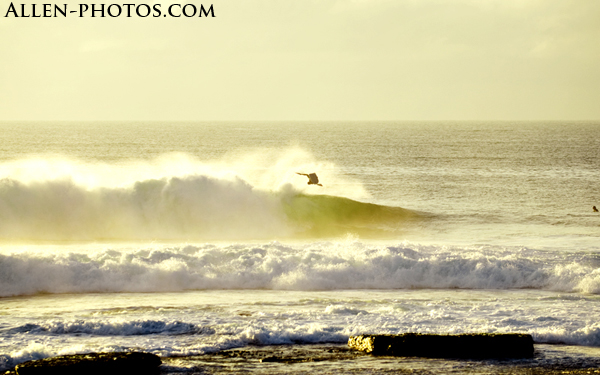 Matt going huge in the early morning light.

Randy nailed about three of these back to back to back.

Ostrovsky striking the Iron Man pose.

Taming the local wildlife.

Dave Winchester full rotation. Nuts.

End bowl forward by Spencer Skipper.