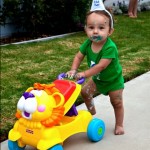 You know its been waaaay too long when Andre's gone hare Krishna, Jono's made a comeback, Aiden turned uno (flashback), and Adam landed back in Espana. Shit, even Tom "Corpse" Robinson got a new nickname, scored a cover, and underwent multiple makeovers since our last transmission. God we're so out of the loop. If the internets were Vegas eateries, we'd be that sketchy offstrip buffet in comparison to the Spongercities, Transitsurfers, and Spongewarriors of the booger world. Our links are a bit older, opinions a little more biased, and news a little less relevant, but fuck our bacon and eggs really are the shit. So grab your fork and dig in as we cover lost ground and cure our summerlong hangover.
It's been a busy summer for the Central Coast crew. Kellen's been fishing, Adam's been saving lives, and Ralphy's been getting weird when not getting all Wayne Cochran with his clients' pompadours. Good news from Murdock who recently graduated to two fins (not one!) after recovering from ACL surgery. He claimed that there were a couple Backdoor OS nugs during the most recent big Hawaii swell which is always a good sign this early in the season. Speaking of one fin, rumors have it that Roldan got his Red back, still ripping the CC on one blunt after his fateful ankle injury last winter. Cale Moore just got back from Nica with plenty of pictorials to come in a future update/interview. And finally the Mexico invasion with the brothers Statom, Louie and Frankie Robles, and Willie Richerson also was a successful mission. Here's a tease. We promise more in a coming etcetera. Until then here are some links to hold you over:
– To get the Mexican juices flowing – no not those juices – check the Expedition Series' new Mex installment. (p.s. Jacob's still got the steez.)
– Bodyboarding and Bullshit. Check the new 805 homepage. You know that it's not totally defunct if even Post Surf gives the forum a mention.
– Le Boogie, a new zine with Toinz as its mastermind. Promo vid.
– Get your buttfuck on. The Schneekloth blog has arrived.
– The Waldron Bros made a full fledged site for their podcasts here. Check the teaser for the upcoming Winny mini-series. Winny Interview.
– Our friend Pez has been working hard behind the lens both in Mexico & Cali of late.
– He wears face paint and cuttoff jeans but we'll give him the benefit of the doubt on this one. Thrash'd The Movie by Todd Barnes. Wowie this should be a good flick. Thrash leftovers.
– Blogosphere: Botha, Feast, Stone, Robinson, Hubbard, Skipper, McBride, Galagher, Smith, Lackey, Wright, Gurney, Max, Bunting, and Jackson all have updates
– Free Asthmatic Giant! show, Delmore BIA
– Trent Mitchell photo essay gold. Regular site. Interview. He can surf too.
– New glaser site, photo of the year
– FOCUS Bodyboarding unveils some top notch Reunion talent: Charly Chapelet, Yoan Florantin, Dropknee
– Morey adds Cali boogies Erichson, Creed, Sani, English and Meyer to their growing team. Twitter.
– Pics: Zenfilmz Hawaii, Peniche Sumol Pro, DKS09, Bodysurf.com, Riptide Exclusives, Bodyboard Cover, Riptide Cover
– Vids: Knights comp highlights, Feast is a beast, Sintra Pro 1 2 3, EBB Pro, Paused, Knights Pro, Honeybone, Julien Miremont, Sherwood Teaser, Ewan at Sterns, Pastiche Leftovers, Stalk II Promo, Mickey Smith standup vid, P L C, Evoke the Stoke Teaser, Brazos, 662, Softcore, Clap PLC/BP
– If that wasn't enough check these randoms: El Nino?, IB09, GoPro HD, Canon 7d, Dane Williams Memorial contest, Winners blog, new Youriding, Crysis online, SenNoSen
Link of the Week: Ben Lee rules.