January 1st, 2010
Well our stay on the CC has finally come to an end and this thread will be put to rest until next winter. Updates from Hellmore & Murdock along with holiday leftovers and a Cale Moore feature to come soon. Until then here's Suicide Joe slippin' into a new decade.


Link: Mainland love: LiquidPerspectives, SampsonFoto (blog), JonAlexander (blog), LiquidPlayground
December 31st, 2009
Hellhurst last week with a deep bellystyle pit. The entire 53 shot sequence has been withheld for an upcoming "Tomato Your Prostate" article in Men's Health. Thanks to Sara W. for the shot.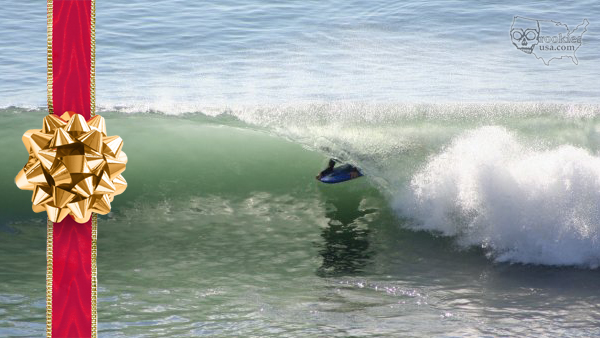 Link: Teasers Pure and FeverDream
December 30th, 2009
An overnight trip up north led to mystery spots, redwoods, and acai bowls. Camel delivered on a couple frothy wedgers.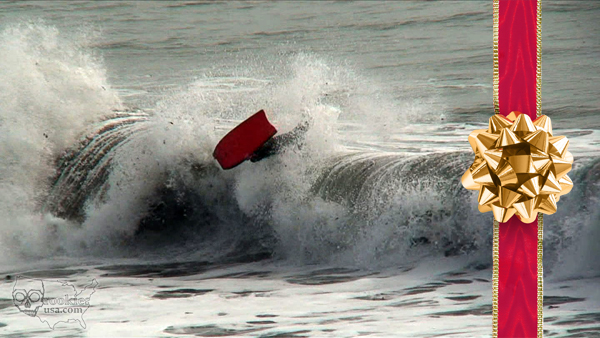 Link: Allen-Photos "Winter Effect"
December 29th, 2009
Congrats to Asthmatic Giant! manager Jason Looney for inking a lucrative contract extension through 2010. As you can see here he loves milk chocolatey barrels.


Links: Oh my. Chase O'Leary hellcam & blog
December 28th, 2009
Today we're getting three for the price of one with Cale up to bat at a rarely surfed righthander named after a Roman emperor. Minus the SUP's it was a productive session. Click pic to enlarge.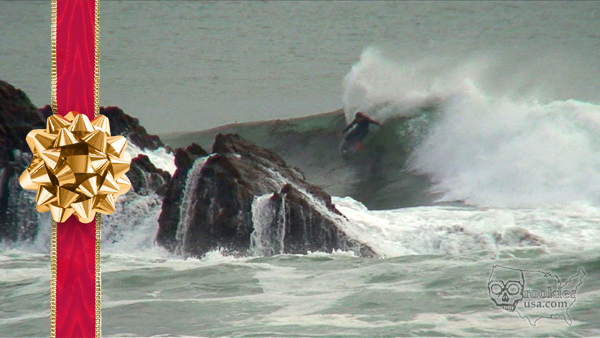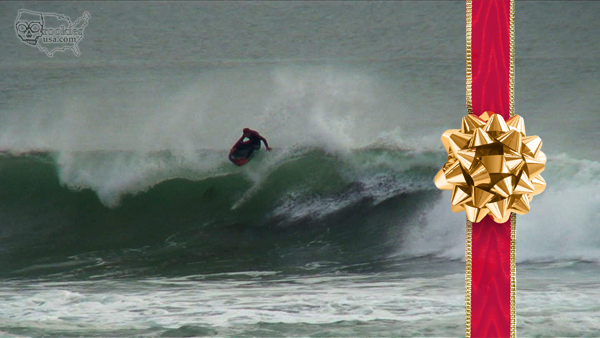 Link: GoPro Zenfilmz vid, Nazare vid, Fronton vid, FeverDreamtheMusical blog, Jarrod Gibson site
December 27th, 2009
This morning those of us who did not partake in late night violations awoke to big and stormy conditions. After a big night of Asthmatic Giant! performing at Mr. Ricks, we found ourselves back in the same neighborhood to sample a couple closeouts in the afternoon. Unfortunately the south winds didn't help and there were only a few to be had. Chad Whitaker, another underground dk standout from the area, got his fill despite the conditions.


Link: Taylor Bockman, Max Arent, Ewan Donnachie, Nick Gornall
December 26th, 2009
High hopes were carried with us up north with the winds, swell, and tide seemingly cooperating for once. Again Brett took one for the team but to no avail except for this Kellen Keene nugget. Two leashes and a fin were consumed by an angry post-Christmas Pacific.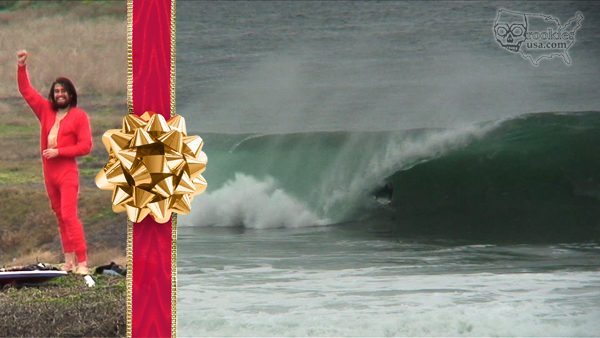 Link: New sites: Manta, Singer, Backshall
December 25th, 2009
Merry Xmas from Red Dog.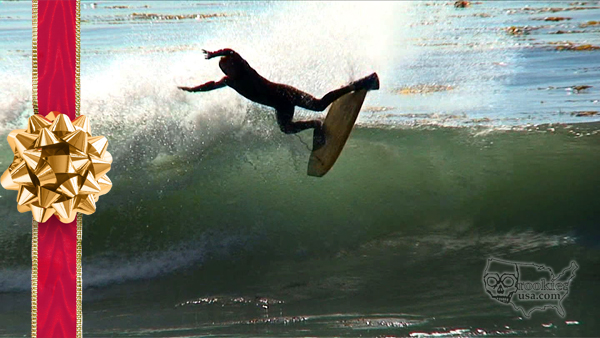 Link: BGA reports from Spain and will be heading to Portugal for 2 weeks starting Monday.
December 24th, 2009
Surf was called off for Wednesday as we gathered our senses from the previous nights' 1st Annual Delmore Invitational, which kicked off at Darren's SLO residence with a blind tasting of 15 wide-ranging pinots. Red Dog wisely unveiled a generations-old Roldan heirloom version of Kentucky moonshine eggnog to prevent palette fatigue during the vigorous tasting process. Scores were given by 11 participants on a scale from one to ten. A green dragon intermission at the halfway point allowed attendees to recover and sample some of the Giant's XXL sushi platter. There were some definite surprises over the course of the 15 grueling rounds, from the robo-trip memories that were evoked from Roldy during one especially poignant pour, to the most expensive bottle in the competition, a 2007 Owen Roe Sharecroppers, finishing dead last in the final tally. In the end though, Stephen Ross ran away with this year's crown with an average scoring of 8.5. Thanks to the Giant for providing the pictorials and to sponsors Del's Pizzeria in Shell Beach and Sushi Kokku in SLO.

Link: Murdock sprained his arm after getting sucked over on this Pipeline nightmare.
December 23rd, 2009
We rolled up north on Monday and Roldan took one for the team, unearthing Spacey after months of dormancy while Louie and I picked off a few warbly ramps.


Link: Feast our Frames
December 22nd, 2009
After conceiving a compelling Jack in the Box theory for the Tiger Woods incident, the Giant suited up and pulled in with plenty of steez.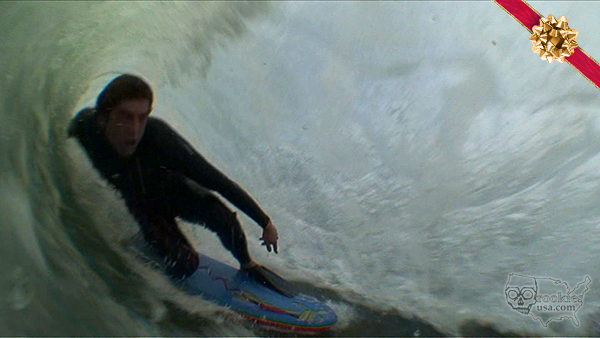 Hubb crowned world champ after Confital. Highlights: Day 3, Day 4, Final Day
December 21st, 2009
Louie yesterday morning positioning himself inside one of the heavy rights that were spinning off of black joe's sandbar. He brought the energy.


Link: The Lackey Project Teaser
December 20th, 2009
Mr. Willie always brings the energy. Here he is twirling off the top with a holiday hack just hours before releasing baby trout in the local lake.


Link: Winny…Winny….Winny
December 19th, 2009
We got a little festive and decided that we'll be giving you a frame and a link to get your mornings started for the rest of the holiday season. Kicking it off with the first entry is Mr. Mark Miller. He happened upon this session after spying us on the local webcam pulling in. A quick hop in the car and he got the last nugget before the wind switched.


Link: Really? How could we let issue 1 slip through the cracks? 71mag.com's issue 2 is now live and full of all that eye candy we've been lacking for the past couple weeks.