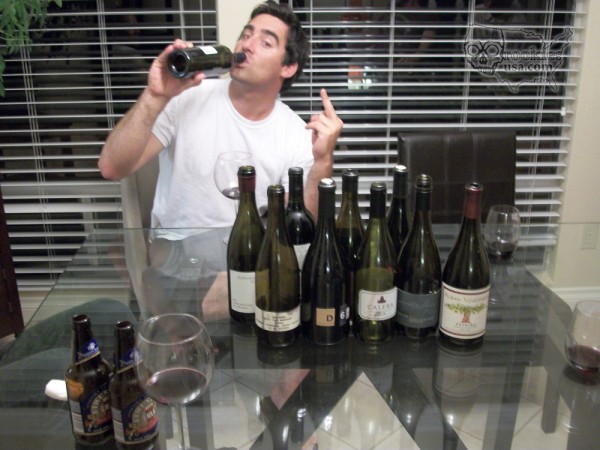 Before retiring back to Boonville for the remainder of summer, Hellmore made a vow to return to Hotel California, a place where dreams are made and dark secrets are revealed. Taras hosted a bbq/tasting at the HC compound with plenty of mid-to-upper-90's on the Parker scale being passed around freely. The hipstered Orange County attendees were transfixed on the purply goods and Darren's iPod beats from the get go.
Things were going smoothly up until the Alban Vineyards private stock kicked a nerve with the host. A convoluted story about his out-of-body Romulan experience was quickly followed by the Wes Box chandeliering episode one winter out at OB. "Where the fuck is Erica Schneekloth?," Taras interrupted himself shortly after, demanding a first listening of his DJ Ukranian Cellphone recording session from some months ago.
Darren dialed it up. Maybe it was the Avila Valley Syrah. Or maybe it was the OJ Simpson Kush. Either way, Taras seemed completely paralyzed by the sound emanating from the speakers. Luckily one of his oversized brows was quivering just enough to prevent the Orange County kids from performing CPR. Taras' lady came to the rescue shortly after a complaint from one of her divorced friends called for some Top 40. The music abruptly ended, Taras came to, and with midnight quickly approaching, it was time to hit the Saloon.