(Editor's Note: This article also appears in A-Frame Magazine v1.4)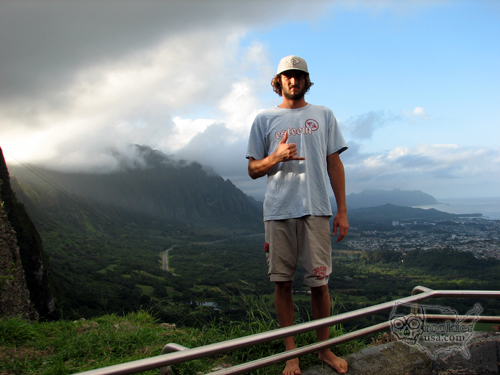 If Branch Mill was located another 50 miles inland, you would have never heard of James Murdock. He would probably have a wife and kids by now, working a small plot of his parents' land to pay off his new John Deere. But the fact that Branch Mill is located just ten miles east of Pismo has transformed a life's tale from one of rather humdrum anonymity to something much more erratic and unconventional. Only the unique blend of a backwoodsy upbringing and an unpredictable stretch of neighboring coastline could come to produce such an enigmatic character and talented rider as James. While his experimentation with new waves, mind altering substances, and large elephants of the sea is fairly well documented, little else about James is. And after some ten years of friendship with Murdock, I too am still baffled and amazed by his antics on a regular basis – whether it's in the water or on dry land.
The mystique surrounding James can be traced back to his lack of technology. Murdock doesn't have a cell phone and his computer illiteracy doesn't lend itself well toward internet self promotion. His unadorned lifestyle carries over to his underground waveriding approach as well. This approach pays homage to his Central Coast roots. An indifference toward current bodyboarding trends and a fascination with both exploration and nature are traits that stem from his rather bohemian childhood mentors Peter Antonio and Willie Richerson, while his raw and explosive riding style mirrors the likes of local underground prone predecessor and Pismo legend Randall Hamilton.
James' tools for this coastline are also quite straightforward: his weathered Pontiac Grand Am navigates him through the many miles of the area's fickle coastline, and the local Diablo Canyon weather report serves as his less tech-savvy version of Surfline. Murdock's simplistic approach as a whole has caught on rather favorably with the local bodyboarding crew. In fact, a somewhat cultish Pismo following has emerged recently as testimony, embracing shitty cars and even shittier jobs, a language built solely upon abbreviations and acronyms, a waveriding quiver consisting of beat up bodyboards and Bluntcut fins, and a music selection built exclusively upon good ole classic rock jams.
While all these things may sound just peachy for James back in his quaint little Central Coast niche, James has remained somewhat uneasy over time. After many years on the boogie building his resume and traveling abroad, James understands that this is an opportune time to push his riding and industry knowledge to the next level. Pismo has been a capable area to hone his skills thus far, but James knows that to take it to this next level he's going to have to crawl out of his Branch Mill cave and take his small town act on the road.
**************************************************************************

Let's start with your Branch Mill roots. How the hell did you get into bodyboarding being from such an obscure place and who were some of your influences growing up?
My first few years in the ocean were actually spent on a surfboard. My dad surfed so I figured that surfing was what I wanted to do. My first time on a boogie was with Pismo DK legend Willie Richerson, who happens to be my neighbor and was definitely a product of Branch Mill. Once I got a taste of bodyboarding I knew it was for me. The surfing scene at Pismo used to be hardcore. I was terrified of all the acid/meth head stand ups that made up the surf crew back in the day. On the other hand, all the bodyboarders from Pismo were down as fuck! The one bodyboarder who influenced me the most would have to be Randall Hamilton. This guy had more love for bodyboarding than anyone from our area. Randall worked at a surf shop that was run by crazy surfers who didn't give a fuck about bodyboarding. Randal put bodyboarding on the map for Pismo and I'm sure there are so many kids who feel the same way I do! There are so many other riders that came from Pismo who I looked up to so in the end of this interview I'm going to make a fuckin' list! Oh ya, my parents gave me countless rides to the beach and hooked me up with my gear. My best sponsor that I ever had would have to be my parents. I also can't forget the Rookie's crew – you guys know who you are and you're the shit!
The crew from Pismo seems to be on a different end of the spectrum as opposed to your typical surfer shaka bro – taming wildlife, conversing in their own unique tongue, and listening to a playlist comprised almost strictly of classic rock. What is in the water at Pismo that brings this bizarre mix of groms to the forefront in the local bodyboarding scene?
The crew from Pismo is definitely one of a kind, even all the kids who don't bodyboard are fuckin' mad! The area up here is still somewhat secluded and people are weird, drugged up, boozed up! I don't know it's fucking unexplainable. I've known the most innocent kids who have got exposed to our crew and before you know it they're infected with the Pismo virus and turned into a savage! It's good shit. The Pismo crew does not give a fuck about all that gay shit out there that is consuming and ruining other people's lives. You have to be exposed to our crew to truly understand it.
I know your own crew of bodyboarding peers has diminished over the past five years or so. Who will be the next kids to carry the torch for Pismo in the years to come and why do so many of the talented locals fall off the map as they grow older?
Growing up in Hawaii or Australia, becoming a good bodyboarder is a very realistic thing. In Hawaii you have warm water with waves year round and Australia has more waves than anywhere in the world. Central California is a different story. Freezing water usually year round, great white infested water, and of course you usually have to drive at least an hour north or south. Then of course there are the waves that are fickle as fuck. Only after navigating this coast for ten years have I finally got most of the spots wired. These are just a few of the factors that discourage the upcoming bodyboarders. Despite all these factors there are a surprising amount of kids who stay committed. There's definitely a couple kids: Adam Terpening and Roy Orbison who are barely getting pubic hair but rip harder than any other kids their age in California

You have been traveling quite a bit lately with trips to Hawaii, Tahiti and two to Mainland Mexico in the past year. What are your travel plans for this upcoming year and what are some of your most memorable trips thus far?
I think that traveling is the most important thing for a bodyboarder, especially being from California. If I had the sponsors to back me or if I was a rich fag from the "OC" I'd be out of Cali eight months out of the year. I don't really know what my travel plans are for this next year. I wish the North Shore wasn't so much money or I'd go there four months out of the year! I do see myself going back to Australia. That place is fucking epic; so many waves to chase and so much Aussie pussy as well. I will definitely be back to Aus hopefully this upcoming year.


I think the only thing longer than your driving record is your occupational history, which has helped provide the backing for all your expeditions. What were some of the oddjobs you took on and how have they shaped your motivation to bodyboard?
Yeah I had some shitty jobs. I worked at fucking Wal-Mart for almost three years. That was life changing, but in a good way! I actually worked with Ross McBride's brother, who started a mobile detailing business. It would take up this whole interview to explain that whole experience. My first job I scrapped was at the Pismo arcade. Now I'm sure that most people don't know that the dude who owned the place was a child molester who is now in prison. Don't worry I never got violated by that peder-ass. I think everybody agrees that working sucks but almost everybody is going to have to do it for the majority of their lives, so fuck it. That is unless I marry some rich bitch that can fund all my trips!
Everyone in California is preoccupied with style these days. From rashguards to fin brands to how you place your sticker on your board, California groms bodyboard in fear of the style police these days, while you have maintained a rather distinctive style of your own. Where did your riding style derive from and what is going to happen when the Australian virus attempts to enter the realm of Pismo?
I think that the whole style issue is getting a little out of control. I think the fact that some of these kids think that by wearing certain kinds of gear it will enhance their riding style is ridiculous. I want to see all those faggots who sleep with their dick logged in their pair of Churchills go out to pipe and catch waves like B-Dub or Stewart. The fact of the matter is fins are for power and it's a wonder why the photogs on the North Shore swim with Vipers on because if they were wearing a flimsy ass pair of fins they could fucking drown and of course miss "the Shot". Every bodyboarder has something unique about their riding style. I think Eppo and Tamaga have proved over the years that there is more to bodyboarding than crossing your ankles in perfect symmetrical fashion. Those two guys are legends in bodyboarding regardless of their style!



You have done more devirginizing of mysto waves on the north Central Coast than Telly from the movie Kids. Highway One is like your second home and if there are waves I know your Grand Am won't be lurking far behind. What is it about this stretch of coast that keeps you coming back?
Obviously I love it up here cuz you can score some of the best, heaviest waves in Cali all by your lonesome. This makes for a special relationship with this stretch of coast. There are some days when I pull up early to check waves and it's double overhead and fucking perfect and there's not one single guy out. Some of the spots are intimidating to surf, especially by your self. It took me so long to figure out the spots in this area and I'm still faced with the occasional barring. Next summer everyone will get to check out some sick waves up here in our new video project. A-Frame will have all the info on that! We also got a dedicated photographer who's back in the scene so hopefully we can help out the magazines cuz if the flowrider brakes where are they going to get all of their photos! I give major props to the guys who are trying to keep the mags alive. This is a hard time to be making any cash in the industry and to the guys who are trying to keep the mags running I give much respect!

Any last words and/or shout outs you would like to give?
Just want to thank everybody who has helped me out with bodyboarding. Randall, Stoker, Ross, Wilbur and the whole No Friends crew. B. Peterson, the whole Rookies crew, AGSK, dope/weed crew, parents/step-parents. Thanks Alex and Nick Statom for giving me the chance to say all my gay thoughts!