The Wave by Louie Robles
Our first look at the ocean was almost hypnotic after our long travels. But that was nothing compared to what we were to wake up to the next day, "perfecto" DOH uncrowded vomiting monsters. I mean…the thickest chunkiest projectile vomits with literally not one person out. I think Wonka was the first one to get in the water. After watching him battle a furious current we knew where not to paddle out. Everyone was getting sick ones. Alex was just blasting through barrels like a camel, Wonka was dropping in to monsters like a pelican, baby seal was doing what baby seals do and suicide Joe, just…the name says it all.
The Crew by Joe Statom
Waiting in line at LAX, I'm starting to get amped for Mexico. Not only because of the swell forecast, but also because of the crew that we had assembled for the trip. I see three guys walk into the airport with huge, overstuffed board bags on their backs. Louie, Willie, and Frankie: DKers straight from the dropknee hotbed of Pismo Beach. Yes! The time is approaching! Me and the other two brothers Camel were also in on the action. Here's a quick rundown of the crew:
Louie "Salt-tooth" Robles was ripping the first couple days of the trip until a set wave lipped him and a knee injury forced him into permanent cameraman duties. His habit of putting salt on everything he ate was very influential upon the whole group. I now have become addicted to salt-covered ice cubes.
Willie "Perfecto" Richerson's fluent Spanish and apt use of the word "perfecto" whenever possible saved us many times from almost certain death. His early win streak in our nightly rummy games led to marked cards and extremely high tension. He also recently earned his second straight photo atop the rookiesusa home page which is no small feat.
Frank "Down Syndrome Stretchy Pants Elephant Seal Baby" Robles is quickly earning a reputation as the newest edition to the Pismo Dropknee Parthenon. Although his Spanish skills won't be turning any heads, his bodyboarding skills will.
Alex "Robot-Foot" Statom's feet began amassing duct tape, puss, and pepperonis at such an alarming rate that by the end of the trip, there were many who weren't entirely sure if he was human or a cyborg sent from the future to kill us all. He also scored more barrels than anyone not named Harry Hop-Up Henderson.
Nick "College Kid" Statom had to fly in a couple days later than the rest of us after about a month of hanging with notorious Rookie James Murdock and doing research for Scripps in Hawaii. Even though he claimed to be rusty after his surf hiatus, it was clear that he was still at the top of his game.
The Deck by Alex Statom
Upon exiting the airplane we were blasted with a wall of tropical heat and humidity that immediately put all sweat glands on overdrive. Luckily the acclimation only took a few hours and by the time we reached our final destination we had embraced the salt and grease that would steadily accumulate throughout the trip. Soon the filth was looked upon as a badge of honor. Showers were looked at in disdain, shaving was blasphemy, and putting on a new tee was cause for insult and mockery.
Our home base was all you could ask for on a Mexico trip. All frivolous luxuries were washed away and we were left with the bare essentials of surf travel. No TV, no fridge, 3 worn mattresses, and a sketchy shower/shitter combo were all just afterthoughts to the main attraction: a big second story deck with some old lawn furniture and the best view $40 dollars a night can buy. For the second consecutive trip we had scored the best room around with a 180 degree view of the offshore spitting peaks just a hundred yards away. After finishing a surf it was the perfect place to come in and claim your best barrels, describe your worst thrashings, cackle at each others blown waves, or heckle the Stepoff Stans outrunning barrels in the distance. And once the afternoon surf session and dinner scrappage were complete, the deck transformed into the home for our evening entertainment. Frank brought a mini speaker system for his iPod and it provided a classic rock soundtrack to our increasingly intense rummy games. Corona megas were slammed into our bellies and occasionally onto the ground. Tensions mounted as Willie's win streak continued and his inflated ego chaffed at ol' Lou's hide. Luckily, confrontation was avoided as Willie hit a well-timed cold streak and his relentless heckling finally came to an end.
Sure the surf was insane, the adventures into town and up into the mountains were fun, and our big night out at Club Glass was literally a blur. But for me the deck was the essence of this trip. With your cards in one hand and your Mega in the other, spitting sunflower seeds on the ground while talking trash to the other shady characters around the table as perfect beachbreak tubes crashed in the dark just a stones throw away… you can't ask for much more from a Mex trip.
The Culture by Willie Richerson
The Drunken Troubadour
Everyone on the bus sat silent, waiting for him to get up or at least move. Louie, Frank and I wondered if the drunken old man had died as he fell into the aisle, his head contacting metal with a loud crack. He had sung a heartfelt song at our breakfast table just minutes before. We had tipped him enough to get a bottle of coke to accompany his tequila. Did we really hear his final song?
Slowly his legs stretched out and two men helped him to his feet. He mumbled something as thanks and immediately he began strumming his guitar and belting out the same song he had played for us earlier. A great recovery, but not a single person tipped him and he stumbled off the bus into the scorching mid-day sun.
The Biting Fish
The local bus station dumps you straight into the central market where you can get an epic meal for under two bucks, some sweet new clothes, or a big raw chunk of beef or pork, unrefrigerated.
One afternoon we took three separate buses, past the giant cement factory, to a natural spring called Los Amiales. The water was clean and clear, and felt great in the mid-afternoon heat. All of the sudden Alex let out a girly shriek when something began biting at his ankles. The round wounds from his fins looked like small pepperoni, an inviting snack for the small hungry fish.
Besides the surf, riding the public buses, windows wide open, catching glimpses of the simple lifestyle enjoyed by these smiling people, makes any trip to Mexico feel like a true vacation.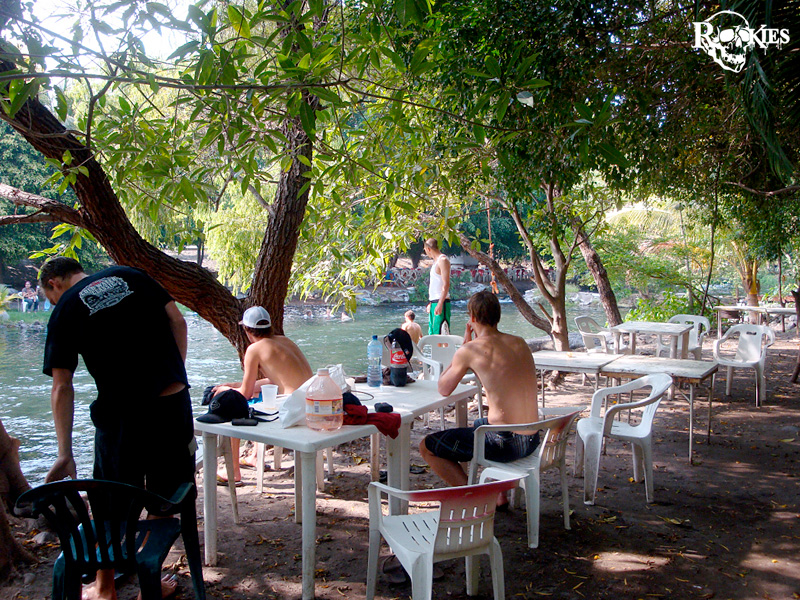 The Nightlife by Nick Statom
Well, there was the weekly Tuesday techno bizarro bonfire with the world's best vegan ski teams getting extra enthused about their tow partners just a stones throw from our suite balcony. But we resisted the urge to partake despite persistent growls from the Gremlin. Instead we opted for plan B: surf our brains out all week while keeping it mellow during after hours in hopes of an XXL night on the town come Friday.
That's not to say that the simple pleasuries of dinner at Tsunami followed by Corona Megas, fistfuls of sunflower seeds, and roust-fueled rummy games was a depriving affair in the interim. In fact, this option became a rather welcome routine throughout our stay and five simple ground rules became readily apparent after the first night: (1) DO NOT drop your Mega, (2) DO NOT leave an oversized discard pile for Willie to pick up, (3) Roust the fuck out of Willie if he picks up said pile, (4) Wear bug spray – lots of it, and (5) Keep the iPod jams rolling at all times. Such refreshingly simple forms of entertainment were not a bad way to break up the long, humid nights and relax while recounting another days' pumping surf with five of your closest amigos.
When Friday did finally come we did not forget. Transportation plans to our nighttime destination of Glass were made days in advance. Megas and bottles of Jimador were purchased. Appropriate clothing for the club was tracked down. Local girls were enlisted. Pepperonis were concealed. We were ready, Freddy Got Fingered style.
The two hour transit huddled in the bed of Edgar's truck wouldn't kill our buzz. Neither would the tropical deluge that struck around the halfway point. Nope, a week's worth of buildup and a potent Squirt/Jimador combo carried us onward, and carried us directly to the doorstep of Glass in a drenched, dazed Pismo heap.
Unfortunately the insides of Glass didn't quite live up to our collective hype. There was no dancefloor, a crowd that was a little too posh for our filthy third world expectations, a cover and pricey bottle service. But we had turned that corner long ago and went right to work nonetheless.
Alex peaked way too early and we propped him up on various pieces of lounge furniture a la Weekend at Bernie's to avoid getting 86'd. Joe didn't need any propping to find himself double fisting local scenery with his suicidal tendencies. Louie wasted no time in establishing a pseudo dance floor within our own growing entourage with some spectacularly unexpected Grover City house party moves. Willie delighted and charmed the locals with his perfecto Spanish; Frank's lack thereof made for some classic one liners. Frothing in unbeknown territory, the Pismo sum outweighed the individuals on hand as we fed off the distinct personalities of our posse and let loose until the wee hours.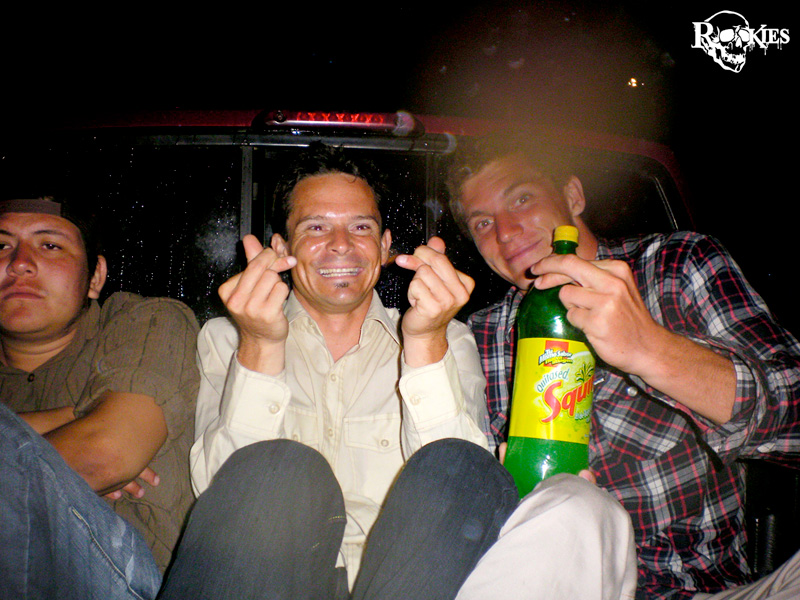 The Food by Frank Robles
The grub in Mexico was too legit to quit to say the least. Eggs and bacon for breakfast, tortas for lunch, then topping it off with chicken tacos for dinner I meeeean fuuuck it was heaven. There would be multiple smoothies taken down each day by the crew which now have taken a special place in my heart.
Fortunately no sorry soul was struck with the crypto creep on the trip, just some pretty heavy morning tequila shits after a couple long nights of getting weird. There was one particular night that the crew took a big roll of the dice by taking down some pretty sketchy tacos on the way back from Colima. I thought for sure one of us was going to be wounded in the morning after those tacos but our shit stayed solid. Mexico was insane so many memories and good times, I am sure we will all be going back soon for round two.
* * * * * * * Mas Fotos * * * * * * *