The swell this day was big and pretty north. That combination provided for some serious Backdoor ramps for those who were willing. As you can see here, Pierre was one of the few who were willing. Click here for animation.

Shoulda woulda coulda. PLC airdropping into a bomb only to come up just short of one helluva barrel. Click here for animation.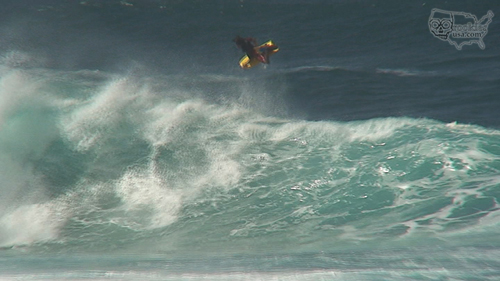 Lofty forward air on a Gums sidewinder. Click here for animation.

PLC scooping into a sizey Pipeline wall.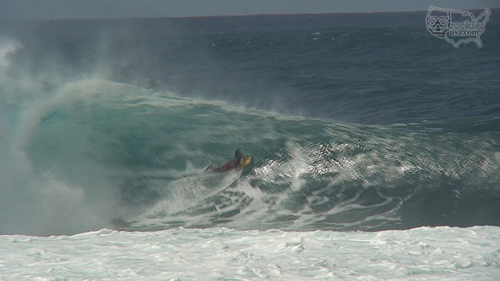 The wave everyone is buzzing about. This is the kind of section you always dream about but never want to actually face. PLC putting it all on the line. Click here for animation.

The aftermath wasn't very pretty. Bloody discharge imminent.
* * * * * * *
How was the swell and crowd on this particular day at Pipeline?
I remember waking up very early that day and checking Pipe as usual, the swell was very messy and my expectations for that day went down, so I came back to my place to sleep. Around 10:30 I went back to check, and it was way better, the crowd was sweet, no stand ups were out there, only bodyboarders. Jeff Hubbard was ripping and pushed me to go surfing and try to boost like him. I think that day was the best bodyboarding day of the season.
Can you explain the wave/section on that critical Pipe reverse?
I remember being almost at OTW when that set came through, I took off but the wave didn't look great, but as soon as I bottum turned I could see the massive section raising up. At this moment I didn't have the choice, so I just hit the lip and hoped for a smooth landing but it didn't happen.
I heard rumors that you punctured a lung and went to the doctor later that day. What exactly happened to you? Also, what was the injury that you sustained during the Pipeline contest? Do possible injuries linger now in the back of your mind?
I didn't go to the doctor but I should have. 20 minutes after that air reverse, I was coughing and spewing blood for about an hour. It was the hardest landing of my life by far. In the comp after my first wave, I went for a closeout at Backdoor, so stupid. I hit my back really hard, I could not feel my legs, it was a bad experience, but wasn't that bad, after some movement I felt my legs but my back still hurt for a week.
What have you been up to since the Hawaii season?
I went to Brazil for the second IBA. The waves weren't incredible but it was a great comp, good organisation and good riders. I came in 5th so I'm actually 6th in the world ranking.
What are your summer plans as far as traveling?
I'm going to Australia in May for 3 months for the Shark Island Challenge then back to Brazil for another IBA, then Chile for the Arica Challenge, and then back home for all the European comps (Spain, Portugal, Canaries)
Who have you been surfing with lately?
In Hawaii and Brazil, I surfed with Amaury a lot, we are pushing each other a lot and I really enjoy surfing with him because the session is becoming a real contest of who is gonna surf the best. I get the same feeling with Jake Stone as well. But since I came back to France, I have only been surfing with some stand up friends, I've had a couple really good surfs.
Do you have any future Cali trips planned?
I would love to come, the beachies looks insane, I really want to surf the Wedge, one of the most famous bodyboarding waves in the world.