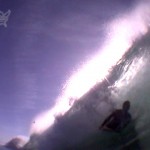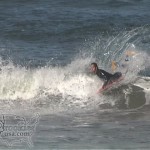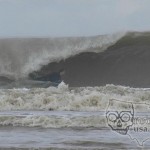 If a cat has nine lives, Wilbur's got at least 28. That's one for each and every year that he's now successfully ducked. He'd been dancing with the devil for at least 27 of 'em when he recently signed over the farm and went cold turkey on us. Well, that's not quite dead-in-the-freezer cold, 'cuz we all know he'll never lay off the sauce. But after tic-tac-toeing his way across life's age-old trinity of career job, marriage, and baby in a two-month span (not necessarily in the conventional order), we now find Mark in the most unimaginable role. That's a role that involves diapers, a wedding ring, and daily meetings with French Canadians from Blackberry.
Most of us remember Mark best when at his worst. High-centered and blurry in a scummy Oceanside parking lot after a raucous No Friends premiere. Haunting around SDSU like the corpse of Green Goblin post Red Dawg sharpie exhibition. Eating shit off the stage at the Option awards before an impossibly incoherent victory speech. Reigning supreme at the Cabo Freakfest Century Club with a massive black eye to boot. Attempting to run from gun-wielding MP's after getting caught sneaking on to surf a California military base. The list goes on. If you have dreamt it, Mark has lived it. From SD to SF to his return to the Central Coast. From living with 4 others in a one bedroom shanty on El Cajon Blvd to squirting out marbles as an adopted Robles on Mentone Ave. From the Tempo to the Blazer to the Sprint. From straight gangster to Straight Edge to straight whiskey. It's all been part of the Wilbur legacy, a legacy deeply embedded in the Central Coast bodyboarding scene.
As spongers we'll remember Mark to a slightly different tune. His carefree lifestyle instilled a sense of confidence into a group of Pismo Beach degenerates numbed by the white plague. He encouraged aspiring groms who needed that extra push. He forged ahead on his own and bridged a path from childhood mentors (Stoker, Warthen, Hamilton) and industry connections (No Friends/Vortex/Esteem/Aleeda/NMD/LMNOP) to the local bodyboarding youth. He brought creativity and a fresh face to bodyboarding's antiquated image with his imaginative ability in art and design. Most of all he brought a spark with his magnetic personality that exuded his enthusiasm for the sport. The reckless confidence Mark carried was infectious and inspired our crew to push boundaries abroad while always remaining loyal to our home.
So don't let the brass, the Huggies and the Canadians fool you. He endured some lows. But he knew even better how to embrace the highs. And after everything that's happened he's still right here. He's not done yet. Wilbur is still inside there shaking around. Still amped on Lore. Still amped on Rookies. Still amped as fuck to surf. Still loving music. Still loving art. Still loving life.
(Check the pics and Adam's piece on his wedding here and some bonus pics revolving around other events in Mr. Miller's hectic past couple months here.)
Link of the Week: The tour is winding down and things are heating up. The 1st 4 rounds are done and GT, Uri, BP, and PLC all have a shot at the title. Stay tuned with the live feed and look for Tamega and Player to clash right off the bat in the round 7 heat draw.