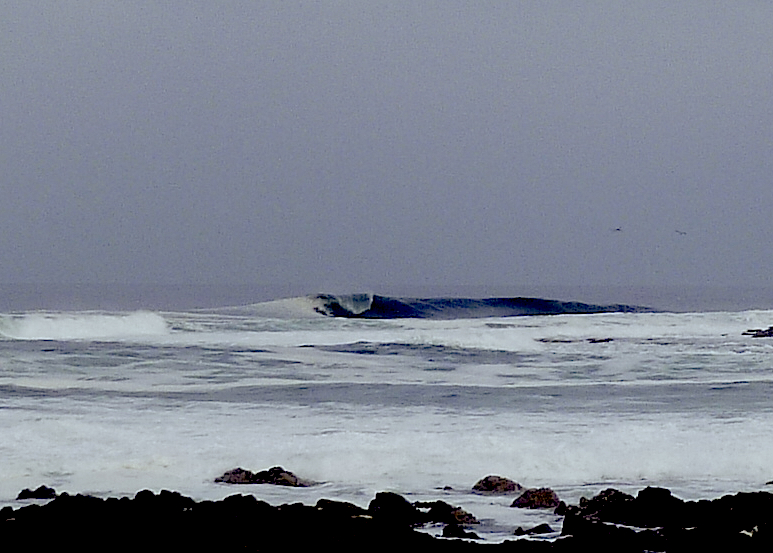 After 3 months of Pachamama-guru gardening in the Andes, I was in dire need of salt water, coastal air and moving water. I set out on a 20-hour bus ride through Martian-like terrain only to arrive at an Atacamenian oasis filled with coastal pampas, lively atmosphere, colorful South American houses and an abundance of reefs.
On the first morning I woke up before first light to check the waves. I found myself in front of empty, overhead sets coming in under the overcast dawn. I suited-up in minutes and paddled out with two other locals. We traded off quick, heavy barrels with hoots and Castellano conversation.  After a while the crowd filled in and I headed in for some toasted flour porridge. I caught on quick to the locals surf schedule and un-crowded waves were bountiful. Dawn patrol sessions, mid morning breakfast followed by a mid-day session, siesta and concluding the day with an evening session quickly became my soul nourishment.
On the 3rd morning, the routine and waves were still holding strong. I suited up and paddled out alone admiring empty-emerald-overhead-right-hand barrels. I waited for a set and caught my first wave. I drove down the line, pulled in, didn't come out and went straight to the bottom. A flash of light illuminated the ocean green in front of my eyes. I surfaced dazed, confused and with open gash near my temple.
Makeshift duct tape bandages were applied but they only lead to torn-out hair and a delayed bloody-faced taxi ride to the ER. I keenly observed the ikikeñan nurses in hope for more than just a remedy, and as my name was called low and behold the only grey haired, nearly blind surgeon opened the door for me. I'm not sure if it was the lack of eye contact, sparse mental/physical condition questioning, or simply the hairy bloodstained sheets that had me second guessing lying under the lamp. Never the less, the Doc. left me with 5 stitches and a prescription for 1 week of no surfing.
The following days were filled with frustration, relaxation and reflection. It was agony not being able to surf while watching the waves fill in. I quickly became the regular gringo at the bar de zumo. Round after round of zanahoria and naranja kept me hydrated and nourished. Argentinean bodyboarders kept my mind occupied with excessive consumption of yerba Maté, yerba buena and boogie vids. Their hospitality and lifestyle reconnected me with the sport of bodyboarding, and above all why and how I began to travel. It was humbling and motivating to meet more kids in search for waves, travels, adventure, and most importantly not sweating over the bullshit of social pressure and pursuing their own path in life. Although my latest travels haven't been a hundred percent wave driven, bodyboarding is what sparked my first travels. It has been with me on every trip and it will continue to be so on those to come.
Departing the oasis in return to the farm was an endless filmstrip of arid earth and uncharted coast with tons of potential for waves. Injuring myself due to excitement, lack of local knowledge (being it was low tide) or simply rusty bodyboarding skills was frustrating. However it is the risk when one searches for thrill and is part of the adventure.  I've got just under three months left of working la Pachamama until I return home and if I don't return to the Martian oasis, at least I have a souvenir that I'll never loose. Good times in South America!